Bohemian Boho Tie Dye Skirt Sequins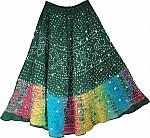 As the summers set in the demand for anything cotton, anything easy on the eye and the skin and anything manageable is always on the go. Light and flowy cotton in the form of these skirts is a welcome sight. These are a fascinating variation of a simple long skirt in a variety of bright and summerish colors.
This is a tie dye indian skirt in plantation green with a beautiful eye-catching multicolor tie dye border. It is accented by evenly placed silver round sequins all over the skirt. This skirt has a relaxed fit for carefree movement. This party skirt is extremely light and flowy, it has a very full hemline. The sequins shimmer in sunlight and you will sway and dance with every move.
Length:35″ (U-shaped hemline)
Waist: 24″-38″(Elastic waistband)
Material: 100% Cotton
Care: Dry Clean Only