Features a Short Skirt, Wrap, Long Skirt, Dress and a newly added Tank Top - all in soft jersey cotton.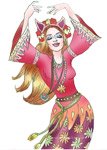 Something natural but flambouyant. Loose fitting - like not measured and made for you. Casual tie dye for casual days, and colorful, striking for those odd ones where you want to make a statement.
- For example, you want to search the site for 'Blue Wrap Skirts'
Search by Style #
For example, you want to see a style, and know its number, say 3291
Fast Shipping
Items are delicately packed and orders shipped from San Francisco within 24 hours. Low overheads and margins help to keep prices really low. Shipping is minimal. You can also sign up for periodic special discount coupons. Overall we strive to put together a great deal for our very happy and satisfied customers and send discount coupons to our regular customers whose number is fast growing.
Low Prices
We do not believe great fashionable clothing has to be very expensive. Carry many of these items well, and trust us you get a bang for your buck. You may find similar long skirts and bags sells at big department stores and fashion boutiques for unbelievably high prices. When you shop with us, you buy directly from the manufacturer, so you can enjoy direct global sourcing and thus best prices.
Welcome to our little bazaar!! We take great pride in our little store because we sell hand picked designer fashion mostly hand crafted merchandise. Everything we sell is meant to make you look and feel special, vibrant, HAPPY and cheerful. Thats why we love bright colors and fancy patterns and that is reflected in all we sell. Take a look at our unique collection and see for yourself......and do peek at our commitment to sustainable fashion clothing.
There's a little Bohemian in all of us! Our stylish and trendy Bohemian Chic Skirt Collection is perfect for the women of today who has an eye on the past! This vintage-look bohemian clothing collection features rich tonal pinks and purples with golden accents.
We offer a distinctive and sophisticated collection of exquisitely sequined evening wraps, embroidered stoles and uniquely woven paisley stoles. We also have hand-embroidered and beaded and a new category of sequined handbags and some exquisite jewelry. We specialize in designer items with a sophisticated flair tastefully fashioned in exceptional colors. Many of our designs are inspired from the streets of Hollywood and made to order. Others are selectively hand picked to ensure creative designs and superior quality.
The Little Bazaar: Shop for ethnic and trendy long skirts, bohemian skirts, jewelry, purses, bags, stoles, shawls. Best Value at Best Prices for bohemian or hippie look long skirts and bags.
Shop for ethnic and trendy skirts, clothes, jewelry, purses, bags, stoles, long skirts, shawls
Best Value at Best Prices for bohemian or hippie look clothing, skirts and bags